Model NO.: ID-309

Factory: Yes

OEM: Available

Use: for Emergency Use

Application: 1-6mm Holes

Trademark: i-Like, Captain

Transport Package: 12PCS/CTN, 2500ctns/ 20FCL

Specification: 450ml, 650ml

Origin: Guangdong, China

HS Code: 35069190

Model NO.: ID-309

Factory: Yes

OEM: Available

Use: for Emergency Use

Application: 1-6mm Holes

Trademark: i-Like, Captain

Transport Package: 12PCS/CTN, 2500ctns/ 20FCL

Specification: 450ml, 650ml

Origin: Guangdong, China

HS Code: 35069190

Catain puncture repair  tyre sealant
Features:

I-like tire sealer & inflator is designed to quickly seek-out and effectively seal most normal punctures and slow leaks. It is 100% applicable to breach within 6mm on tubeless rubber tyres of cars, motorcycles, electrical bicycles. No jack nor tyre-change is needed. One step procedure of tyre pumping and repairing is finished in seconds. It can also be filled into new tyres to prevent unexpected leakage. Non-toxic and odorless. No corrosion and no damage to the tire.

Uses:

Just connect, inflate & go! !

Directions:

1. If possible remove object causing puncture.

2. Deflate the tyre; Shake the can well before use;

3. Screw connecting tube firmly onto tyre valve; Hold the can upright-button uppermost-remove protector cap-press button until tyre appears firm.

4. After pumping is finished, disconnect both ends of the tube. Immediately drive 3-5km to allow the sealer to spread in tyre and mend the puncture. Then check and adjust tyre pressure.

 

Item No.:
ID-309
Can Size:
65mm DÂ  x 158mm H
Package:
450ml x 12pcs/ctn
Carton Size:
275x205x205 mm
20ft Container Loading
2500Â  cartons
 
Catain puncture repair  tyre sealant
Features:

I-like tire sealer & inflator is designed to quickly seek-out and effectively seal most normal punctures and slow leaks. It is 100% applicable to breach within 6mm on tubeless rubber tyres of cars, motorcycles, electrical bicycles. No jack nor tyre-change is needed. One step procedure of tyre pumping and repairing is finished in seconds. It can also be filled into new tyres to prevent unexpected leakage. Non-toxic and odorless. No corrosion and no damage to the tire.

Uses:

Just connect, inflate & go! !

Directions:

1. If possible remove object causing puncture.

2. Deflate the tyre; Shake the can well before use;

3. Screw connecting tube firmly onto tyre valve; Hold the can upright-button uppermost-remove protector cap-press button until tyre appears firm.

4. After pumping is finished, disconnect both ends of the tube. Immediately drive 3-5km to allow the sealer to spread in tyre and mend the puncture. Then check and adjust tyre pressure.

 

Item No.:
ID-309
Can Size:
65mm DÂ  x 158mm H
Package:
450ml x 12pcs/ctn
Carton Size:
275x205x205 mm
20ft Container Loading
2500Â  cartons
 
20 Ton Forklift . Shantui are professional Heavy Duty Forklift 20 ton manufacturer. The 20 Ton Diesel Forklift is with imported Volvo engine. Standard mast is up to 4 meter. Has positioner, cabin and air conditioner, 2.44m fork. Forklift Truck has been exported to South-East Asia, Africa, Middle East, Australia; Europe with certificates ISO9001, CE, Ghost, SGS, COC and CO...

As a world famous brand, Shantui can be in the list of world top 50 Construction Machinery manufacturer is because of its good quality. It has following advantages.

Convenient maintenance. The machine is with instrument which can indicator the machine problem. Cabin is with tipping structure when tilt the cabin, space is left for maintenance. Brake is free of maintenance

Environmental performance. 20 tons forklift is with Volve engine and US Perkins spare parts and it can meet European and American emission standard.

Comfort. The machine is comfortable with adjustable suspension seat and air conditioner.




Shantui products including Diesel Forklift , Electric Forklift, heavy duty forklift, Gasoline Forklift , container forklift, Side Loader , Pallet Truck , construction machinery including shantui bulldozer, Wheel Loader , crawler excavator, road roller, generator set, motor grader, truck crane, construction machinery parts, Shantui Parts , Cummins engine parts, komatsu parts, and other machinery parts.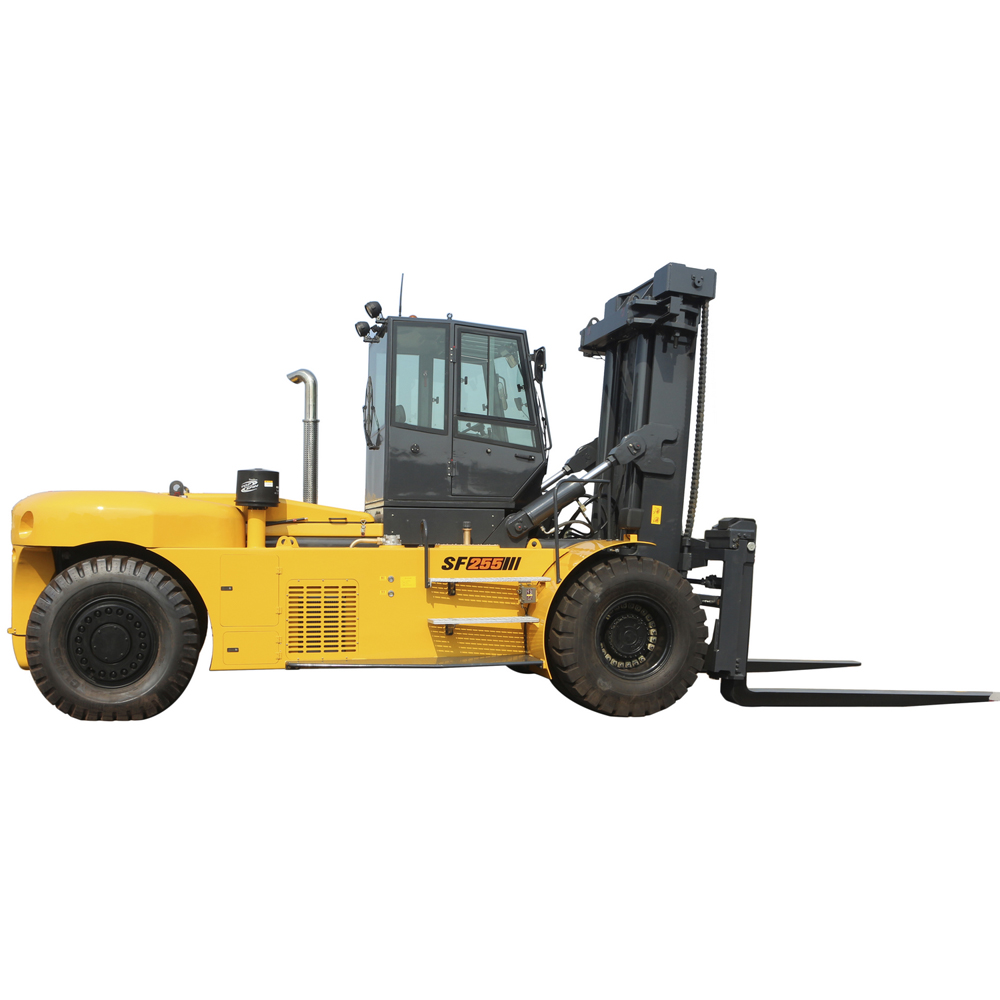 20 Ton Forklift

20 Ton Forklift,20 Ton Diesel Forklift,20 Ton Biggest Forklift,20 Ton Capacity Diesel Forklift

SHANDONG HE FORK TRUCK CO.,LTD. , https://www.shantuimachinery.com