Model NO.: 1 um

Filter Rating: 99%

Trademark: ECOGRACE

Transport Package: Outer Carton Package with Plastic Bag Inside or AC

Specification: standard

Origin: Zhejiang, China

HS Code: 7326901000

Fiber Bed Mist Eliminators are also commonly known as fiber bed filters or candle filters .

Fiber bed (candle filter) mist eliminators are used to remove fine particlesfrom a gas stream.

Fine particles include sub micron particles (I.e. below 1micron) and particles between 1 and 3 microns. All fiber bed mist eliminators are cylindrical with fiber or fiber/metal mesh layer fitted between two concentric cages and are usually installed on a tube sheet in a tower. Soluble solids can be handled efficiently by dissolving them in a solvent. Insoluble solids can be handled to a moderate degree as well, however excess insoluble solids can cause plugging of the fiber bed mist eliminators.

APPLICATION

1.Sulfuric acid manufacturing

2.Chemical processing

3.Chlorine and hydrogen production

4.Asphalt roofing and asphalt storage

5.Food processing

6.Metalworking

7.Pulp and paper

8.Textiles

 

BENEFITS

1.Low Total Cost of Ownership

2.Custom-designed filters for new or existing systems

3.High removal performance efficiency - up to 99.9%

4.Simplified maintenance

5.Filter re-packing services

 

FEATURES

1.Available in standard and custom-design configurations

2.Constructed of various corrosion-resistant materials, including Hastelloy, Alloy 20, 316L Stainless Steel, 3.Tantalum, Fiberglass Reinforced Plastic (FRP), plastics, and standard carbon steel

4.Long filter life - up to 10 years

5.High quality control and manufacturing standards

6.Each filter element is individually tested for pressure drop, aerosol removal efficiency, and flow distribution

 

Cereal Bar Molding Machine can produce all kinds of shapes of cereal bars with the raw material of rice, millet, wheat, highland barley, fagopyrum tataricm Gaertn, maize, broomcorn, Chinese pearl barley, buckwheat, etc.

Features
1. The shapes can be round, cylindrical, square, semi round, triangular and blossom, etc.
2. Mechanical pressing & rubbing, does not hurt nuts, without waste.
3. Mechanical driving, accuracy positioning, upper and nether moulds tight fit, makes super cereal bar shaping.
4. Using high performance frequency inverter, easy adjust speed, high efficiency, it can produce 24-hour continuously.
5. Moulds and hopper are both non-sticky processed. All the parts may contacts food are all non-toxic material, oil and high temperature resistance.
6. Cooling conveyer can be customized as demand.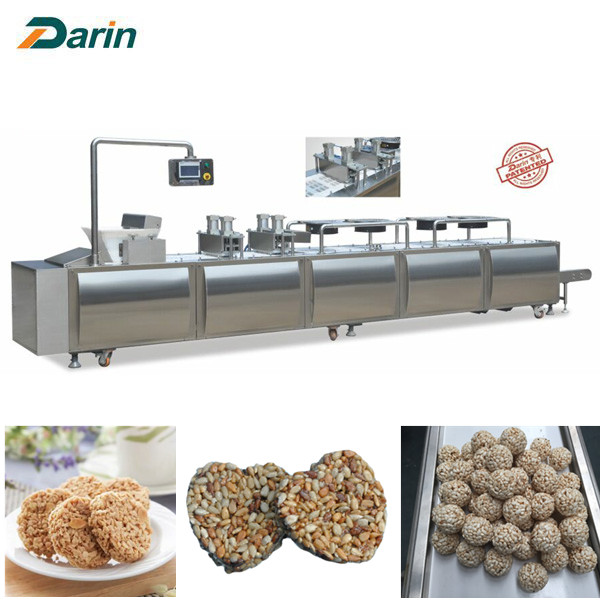 Cereal Bar Molding Machine

Cereal Bar Molding Machine,Cereal Machine,Cereal Bar Cutting Machine,Cereal Bar Making Machine

Jinan Darin Machinery Co., Ltd. , https://www.globaldarin.com