Beijing Foton Cummins Engine Co., Ltd. jointly organized the "Climing the Cummins ISF Engine 500,000km without Overhaul Gold Users" joint venture with Bosch Automotive Diesel Systems, Cummins Filtration Systems, and Kangsheng Lubricants. Since its launch, it has been active among many users. Support and participation. Through the Chinese truck network registration method, Zhang Yu from Hohhot, Inner Mongolia became the first non-overhaul user with a mileage of more than 500,000 kilometers (determined by the order of registration).

According to reports, Inner Mongolia user Zhang Yu purchased the Foton Aoling CTX light truck in June 2010, matching the 115KW Cummins ISF engine, mainly engaged in aquaculture transportation, often running routes from Hohhot to Tianjin, Hohhot to Wuhan, and vehicles used for two and a half years. The mileage of the engine has exceeded 500,000 kilometers and no overhaul.
500,000 kilometers no major repair user Zhang Yu

Zhang Yu mentioned: "When I first purchased a vehicle, I looked at its engine. I remember sitting in the car when I bought it. When the key was turned on and I listened to the sound of the engine, I decided to buy it. "The reporter asked Zhang Yu why he didn't hesitate to buy the engine when he heard the sound," he laughed, "With experience, I can only feel the engine's performance when I hear only the sound of the engine." Cummins ISF engine did not let Zhang Yu disappointed, since the purchase, the engine has never been a failure, but also never let Zhang Yuguo over.
500,000 kilometers without major repair user Zhang Yu engaged in live fish transportation work

The Cummins ISF engine, which was formally put into operation in Beijing in 2009, inherits the innate advantages of the Cummins platform and was built with the combined advanced research and development capabilities of the Cummins U.S. R&D headquarters, the European R&D center and the Cummins China Technology Center, and passed a rigorous reliability test of 1.6 million kilometers of roads. And high temperature, cold, high altitude limit test, with reliable and durable, powerful, fuel-efficient and other advantages. In addition to Fukuda, this engine is also applied to many brands of domestic and foreign light trucks, light passengers, pickups, SUVs and MPV utility vehicles. "No major overhaul of 500,000 kilometers" is the true evidence of the reliable quality of this engine, it is no wonder that Zhang Yu had a "love" on the Cummins ISF engine.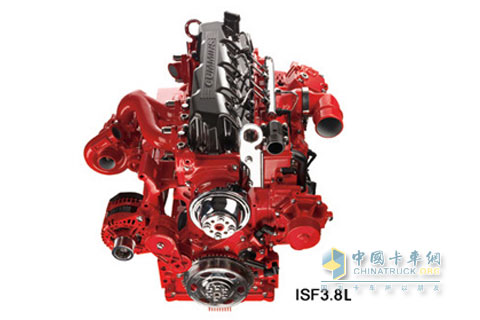 Cummins ISF 3.8-liter engine

It is reported that the Cummins ISF engine is the only light engine product that can achieve 500,000 kilometers without major overhaul. No overhaul mileage is about twice that of similar domestic products. Moreover, the average maintenance interval of the engine is 20,000 kilometers, which is about four times that of domestic similar products in comparison with the maintenance interval of about 5,000 kilometers of domestic similar products. Reliable quality guarantees the high attendance of Cummins ISF engines. This is extremely important for the logistics and transport industry in terms of both time and maintenance costs.

"Lu Yao knows horse power and will see real achievements over time." While the durability and reliability of the Cummins ISF engine have been continuously confirmed, the other superior performance of the product has also been fully demonstrated. Zhang Yu told reporters that in addition to quality assurance, the Cummins ISF engine also performed excellently in terms of power and fuel economy. "We want to make water, not only to add an oxygen tank on the cargo bed, but also to add a car of water and fish. It's 20 tons, but this engine will run forever and it will never go downhill. In terms of fuel consumption, Zhang Yu mentioned: "My car will run at least 70 times a year. People will stop and stop. Roughly speaking, using the Cummins ISF engine can save more than 20,000 pieces of fuel oil a year on fuel consumption. After all, this car does not say that the money earned by pulling aquatic products can be used to give a lot of money to the province. I am very satisfaction".

(For more user experience, please continue to pay attention to China Truck Network Series - User: http://)

From the user's description, we are gratified to see that the engine is not only a product, but also can achieve user value through the product itself; while bringing practical benefits to the user, the manufacturing company has always sought to maximize the value of the product. Really implemented. From Zhang Yu's 500,000 km without major repairs, we have seen Cummins' commitment to customers for the past 90 years, that is, taking the lead in bringing the best products to market and exceeding customer expectations. The engine's dynamic performance, reliability, and efficient fuel economy are the factors most concerned by users when they purchase a car. The user's 500,000-km non-overhaul record is certainly not an example. I believe that in the next search process, there will be more. More than 500,000 kilometers of no major repair records were born. For the Cummins ISF engine that has been on the market for more than three years, no major overhaul of 500,000 kilometers has undoubtedly set a new leading and highly competitive indicator for the industry. This is why Cummins has set a new benchmark for the industry in the field of light engines.

"I think the most conservative estimate of this engine is that there are no major overhauls for 500,000 kilometers and no major overhauls for 700,000 kilometers." Zhang Yu's words of self-confidence make the reporters impressed. This may be the product of the user and the Cummins ISF engine. The most authentic voice of trust, and we will continue to track the first 500,000 kilometers without overhaul users Zhang Yu, and will continue to look for more 500,000 kilometers without major repair users, so stay tuned for China Truck Nets and focus on "Seeking Cummins There is no series of reports on the activities of the ISF engine 500,000 km without overhauling the gold medal.

Editor's note

What does 500,000 km without major repair mean?

Within the same mileage, customers can save more maintenance and fuel costs, save money!

Reliable operation allows users to save a lot of trouble and worry in driving, worry!

People stop parking, create more value for the user in the same time, return value!

Learn more about the event: click http://

About Foton Cummins

Beijing Foton Cummins Engine Co., Ltd. is the world's largest independent engine manufacturer - Cummins Corporation and China's largest commercial vehicle manufacturer - Foton Motor Co., Ltd., a joint venture 50:50 light diesel engine manufacturer. With a total investment of over 2.7 billion RMB and annual production capacity of 400,000 units, the project is one of the largest light diesel engine production bases in China. The ISF series 2.8-litre and 3.8-litre light inline four-cylinder high-pressure direct injection diesel engines produced by Foton Cummins are a new generation of all-electrically-controlled light-duty diesel engines that are newly developed by Cummins with a power range of 107-168 hp. The two engines are powerful, reliable, durable, compact, efficient and economical. They can meet Euro III (National III), Euro IV (National IV) and Euro V emissions, and can be easily upgraded. They are suitable for light and medium-duty trucks. , light passengers, passengers, pickups, MPV, SUV and other automotive areas as well as non-road equipment such as small construction machinery and small generator sets. At present, ISF has been perfectly equipped with domestic famous OEMs including Foton Motors, JAC, and Chery, and has been well received by many domestic users; at the same time, it has also become an overseas light commercial company including Russia's GAZ, Brazil's Daman, and Korea's Daewoo buses. The vehicle's preferred power product has successfully opened up international markets including Russia, Eastern Europe, South America, South Korea, the Middle East, Southeast Asia and Australia.

About Cummins

Founded in 1919, Cummins Corporation is headquartered in Columbus, Indiana, USA. It is a Fortune 500 company in the United States and was elected as Fortune 2011's "World's Most Admired Company" and is the only diesel company on the list.

Cummins is the world's largest independent engine manufacturer. Its product line includes diesel and alternative fuel engines, engine critical components (fuel systems, control systems, air handling, filtration systems, and exhaust gas treatment systems) and power generation systems. Cummins provides services to its customers through its network of more than 600 distribution agencies and more than 6,500 dealerships in more than 190 countries and regions.

Cummins had sales of $18 billion in 2011.

For more information, please visit the Cummins China website.

Aluminum Pharmaceutical foil is Aluminum Foil used in pharmaceutical packing.It is a big market as the aluminum foil has advantage of greatly shielding water vapor, air, ultraviolet and bacteria,thus the pharmaceutical active ingredient can be well protected for longer shelf life.The frequent used alloy in pharmaceutical aluminum foil is 8011 temper H18.It can be different thickness as per clients machine.Using our material to bring technology to the ground.We are always on the road.

Pharmaceutical Foil,Black Aluminum Foil,Reusable Aluminum Foil,Food Wrapping Aluminium Foil

Trumony Aluminum Limited , https://www.szaluminumplate.com